Thoughts and stories behind Forager's kombucha Club
It's been long. I am writing for the first time since a viral infection and the global effort to contain it changed life as we knew it drastically. There has been a range of vantage points for looking at this phenomena; ranging from paranoia, to congratulating the environment, to concern of lapses in government efforts, to calling the global response an opportunist over-reaction, and even to protesting against the whole thing calling it a hoax!
Nonetheless, this emergency got us thinking. Many are concerned about the fragility of our life(style) and how drastically a virus or government decrees can alter our lived reality. It also got people thinking a lot about wellbeing and immunity, how we can strengthen our body and its natural immunity to better guard us from present and new infections. Many became more conscious of the food we eat and strive towards a healthier lifestyle. The lockdown days were spent livening up unused spaces around the house with kitchen gardens. In this, one can see concern for both food integrity and food security. Lockdown has been a serious threat to the livelihood of an already struggling population.
I spent the first few weeks of the lockdown completely numb. A realisation of the fragility of our lifestyle left me perplexed. It was all too much and too fast. But the mind, as our body, has its ways of healing itself. Eventually, Kundo and I started working on turning a piece of land at our house into a kitchen garden. We also started rearing some chicken. We applied some learnings from the Permaculture Design Course I did some months back with Manipur Permaculture Collective. We also fermented a lot of vegetables and had with our meals every day to get some probiotic help for our immunity.
The first raised bed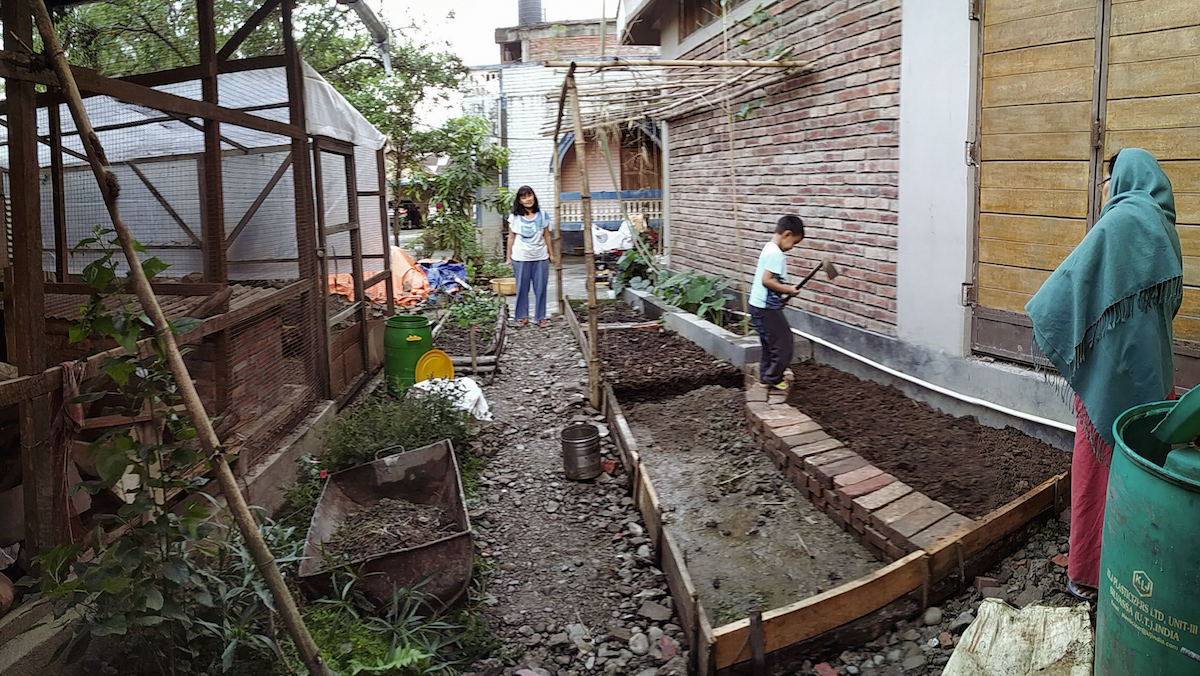 Our son is part of our team, or 'party' as he calls it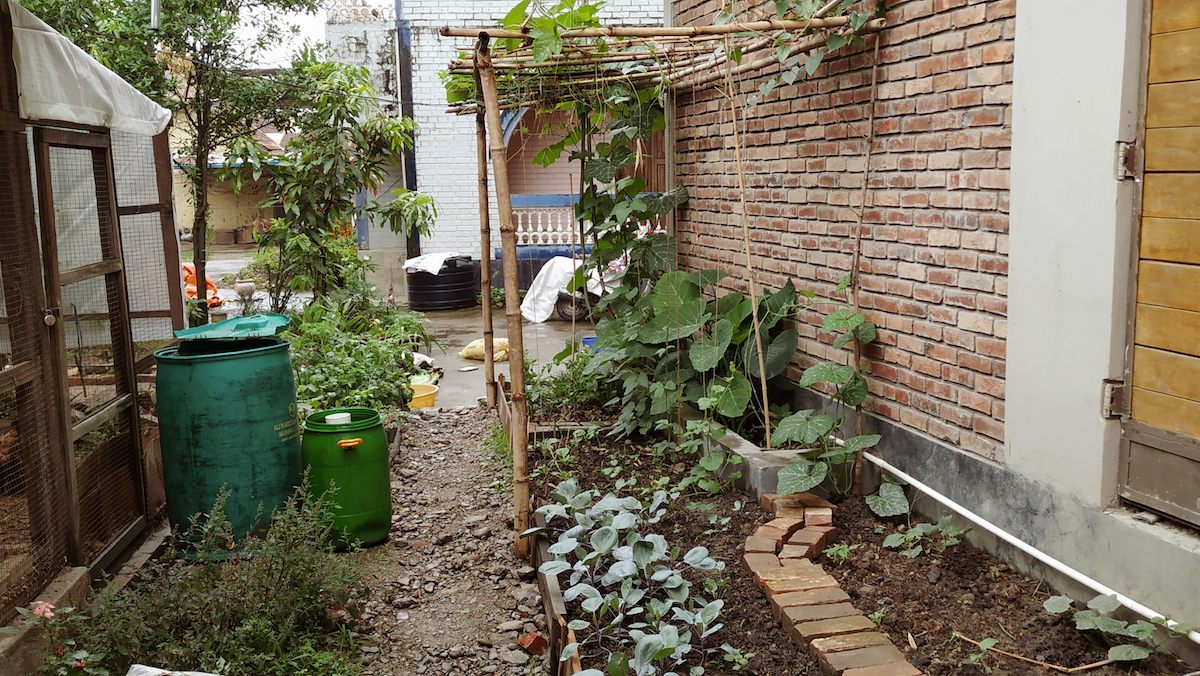 Growth
Eventually, I started to think of working on Forage again. Our restaurant had remained shut for almost a month then. Our food processing unit was also inactive. We were able to support our team only partially with savings until this time, and we needed to think of ways to reopen our business. Luckily our long time delivery partner, Keithel Express, had also started services around that time. We kept getting enquiries for kombucha during the lockdown so we knew some demand was there. Obviously, our customers knew kombucha was good for immunity! Anyways, we started bottling very small batches of Kombucha and Ghost & Co. our oo-morok hot sauce and sent them off with Keithel Express. Mayol also started stocking our products.
Brewing kombucha at home is not rocket science! There are tons of tutorials online on how you can start with a live bottle of unflavoured kombucha like our Red Tea variant and make your own. While some people have started to brew their own kombucha at home around town, we also wanted to make our kombucha accessible to everyone else looking out for healthy probiotic food to boost their natural immunity. One thing that stood in the way was our pricing. Though our kombucha is priced less than half of what other brands sell it for across India, we are aware of how it is still a considerable expenditure for many in Imphal who want to drink it regularly. Right from when we first started packing our kombucha in single-portion bottles, we were very concerned about how the packaging and labelling added considerably to the cost of the product. These bottles are much more costly compared to reused beer bottles. While the small bottles and branding are necessary for gaining new customers for our business, we see how much of an overkill it is for our customers who just want to get to the good stuff inside!
We had tried selling our kombucha in reused beer bottles for some time. But it turned out that the beer bottles are not strong enough to hold the pressure that develops in kombucha due to continued fermentation. Our bottled kombucha is still alive with probiotics and it continues fermenting especially if it is left unrefrigerated. It is always a challenge to maintain refrigeration for its whole shelf life from our storage, to the retailers, to the consumer even if we try our best. We tested some bottles in our vicinity, at different ambient temperatures. When few of them popped, we decided we'll stick to the small bottles for the time being! For our heavy drinkers, we started thinking of a subscription with stainless steel growlers. We ordered some samples of a high-grade fermentation safe growler, and they looked great. Again, it turned out to be very expensive!
All this was way back in last year. And now, with the viral infection and the viral lockdowns, we started thinking of making our kombucha more accessible again. Interestingly, the solution was right here all along. It is a combination of two things we are very excited about – circular economy and subscription. Yes, we return to the good-old ubiquitous reused beer bottles! Only this time, the problem we had with them is solved by using a subscription model. With subscriptions, we know exactly how much to brew, when to bottle, and when to deliver, that too directly to your homes. So the chances of one of these bottles sitting around somewhere gathering steam are very unlikely. And since this is a club of people who already know and love the product, there is no need to waste money on fancy labels. The bottle is damn cheap, there is no need for a label. You do the math. The answer is Value for Money!
I don't know about you, but every time I toss a good packaging in the bin, even if it is biodegradable, I cringe! All the effort and resource, disposable and disposed of.
And thus we brought to life the cringe-free Forager's Kombucha Club!
Bag of joy!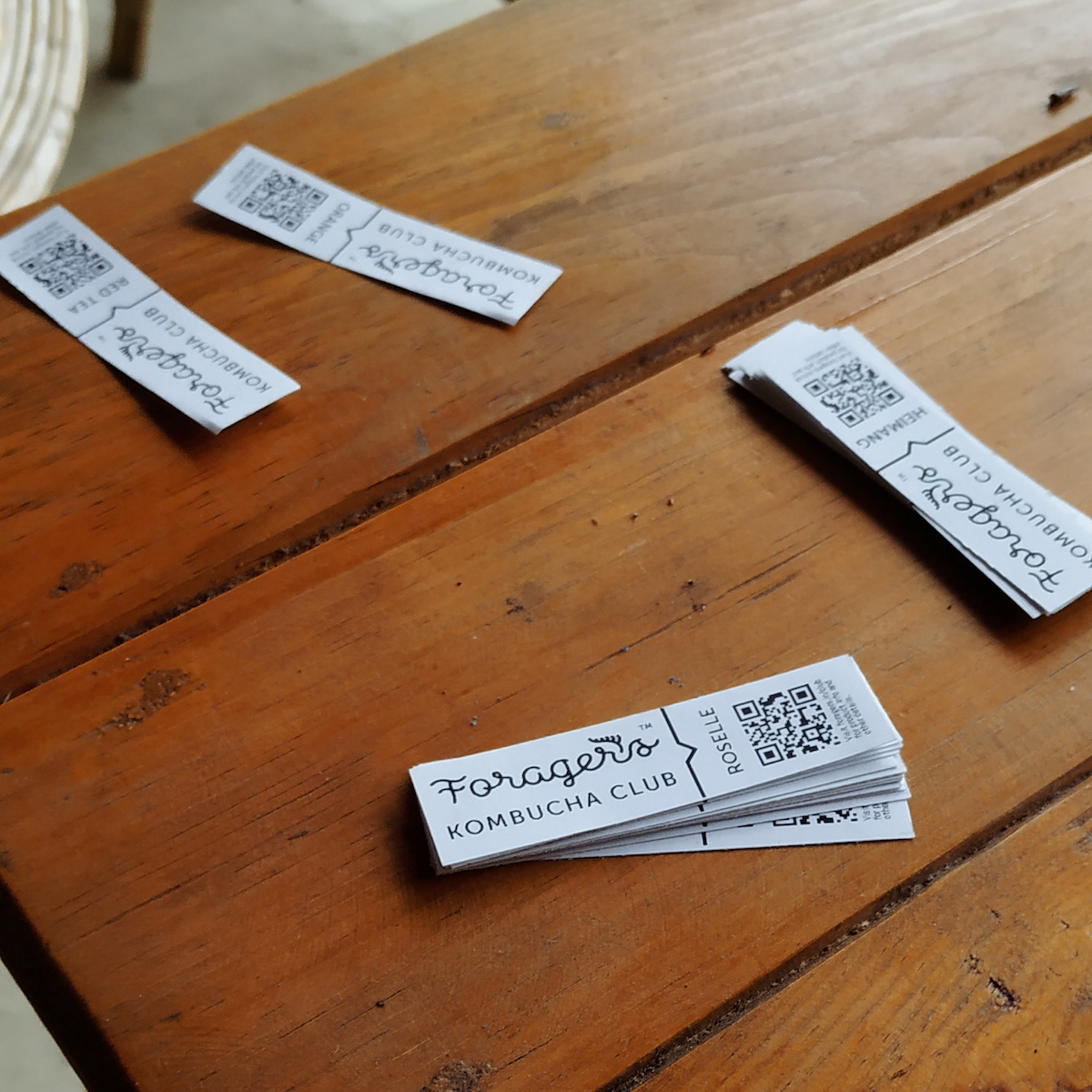 Minimal labeling
A retail bottle of Ginger Kombucha and one for Forager's Kombucha Club
Loaded and ready for the route
Subscription is also a very helpful resource for small businesses like us, especially in times of economic turbulence like now. It's good to know how many people are out there who values and is pledging to use our products. It also maintains a close relationship between the maker and the user, which is always good for both. I have been driving around town with my own bottle of kombucha and a nice playlist for all the deliveries every week. It's work but it's fun. We started opening our restaurant for deliveries and takeaway last week, and last Saturday I was taking orders there while our restaurant manager, Lucksana, helped with the deliveries.
We hope the club gets bigger and we have plans to add many other products. The interesting thing is that subscription is a perfect model for offering small-batch, all-natural food products with short shelf life. Like fermented vegetables, our sourdough bread, milk kefir, fresh farm produce… we are just excited about the possibilities! Yes, everyone is on unsure footing regarding the future. Even though we don't know what we'll be doing in six month's time, we believe we'll still be making food somewhere in some way.
You can learn more about the Forager's Kombucha Club subscription and join here.